Privacy Policy

Terms of sale

Warranty
WELCOME TO GREYP
Privacy Policy
General
Greyp acts as a controller of your Personal Data pursuant to Croatian and European Union data protection regulations. The usage of our website is, in general, possible without the indication of your Personal Data. If Personal Data (such as name, address, or e-mail address) is collected on our website, it is always on a voluntary basis. In case you wish to order Greyp products through our online shop, an indication of certain Personal Data is obligatory for Greyp to be able to provide you with such service. Greyp App may be used by registered users only. Therefore, you will be obliged to provide your Personal Data (first and last name, email address, and password) to be allowed to use the App. We operate under strict policies and security measures to protect our customers. By accepting this Privacy Policy when you sign up with greyp.com or register for an account on Greyp App you give us your consent to process and use your Personal Data in accordance with the terms and conditions of this Privacy Policy.
Personal data Greyp collects
We may collect and process the following data about you. You may give us information, including your Personal Data, when you use our Services, by filling in forms connected to the Services (such as the sign-up form), when you enter into any of our competitions, promotions or surveys, when you correspond with us by phone, e-mail or otherwise when you report a problem with our Services, or through your other activities connected to our Services. The information you give us may include: a) mandatory information required to access a specific Service provided by us, such as your name, email address, address, username, or password. This information is mandatory if you want to use some of our Services. For example, you will not be allowed to use the Greyp App if the required information is not provided; b) additional information that you provide us on a voluntary basis, such as your profile picture or specific information about your Greyp bike that you decided to connect with the Greyp App, etc. Information we collect automatically about you when you use our Services: a) Greyp collects information that your computer, browser, mobile phone, or other devices that you use to access our Services provides automatically, such as the name of the domain you use to access the Internet, the country from which the visit originated, the browser and OS you use to view web pages, the date and time you visited greyp.com, model of mobile device you use, which Services you use, when and in which manner you use our Services. If you have used another website to find us we will obtain the name of the website from which you have linked to greyp.com. b) Greyp collects information from devices you decide to connect to Greyp App. For example, you may choose to connect your Greyp bike or a bracelet specially designed to collect your health information to the Greyp App. In such cases, Greyp will process information that is collected by the connected device. In case you connect your Greyp bike to Greyp App your bike will share with Greyp different information, such as bike-related parameters and settings (timestamp, bike state, max assistance level, serial number), computed variables/telemetry (speed, human power), motor telemetry and settings (cadence, motor power, assistance level, motor temperature, software version), GPS telemetry (altitude, longitude, latitude), battery telemetry and settings (SoC, range, temperature, battery state, serial number, number of charging cycles, voltage), session-specific telemetry (trip distance, session state, max speed, average speed, max cadence, average cadence, max human power, average human power, max motor power, average motor power, total calories, session duration). c) Greyp will obtain your Personal Data from third parties, such as from Facebook or Google in case you decide to log in to the Greyp App or our website by using Facebook or Google account. In case you decide to use such functionality, Greyp will have access only to the following Personal Data: your first and last name, e-mail address, and profile picture. Other Personal Data that you have shared with such a third party will not be shared with Greyp.
Processing and using your personal data
Legal bases for collection and processing of Personal Data: Greyp relies on different legal bases to collect and process your Personal Data. These include: 1) Your consent in case you give us your explicit consent to do so, we may collect and process some of your Personal Data for a certain purpose expressly specified in your consent. Consent refers to your freely given, specific, informed, and unambiguous statement or other clear affirmative act by which you agree to data processing. We will ask for your consent to:
collect and process your location data
send you marketing communications
collect and process special categories of Personal Data.
For example, if you use Greyp App we will ask you for your consent to collect and process your health information, such as heart rate or similar indicators in order to provide you helpful statistics and visualization, use your Personal Data for commercial, promotional, and other specific purposes. When we process your Personal Data based on your consent, you can withdraw your consent at any time by sending us an e-mail to the following address: gdpr@greyp.com. Processing of Personal Data is necessary for the provision of Services or to enter into and perform our contract with you Certain information is collected and processed since it is essential for Greyp to be able to provide you the Services. For example, if you purchase goods from our web site, we need to know your name and address in order to be able to deliver ordered goods to you. Legitimate interest Greyp may collect and use some of your Personal Data in case we have a legitimate interest to do so. We consider that we have a legitimate interest and may collect and process your Personal Data to: keep our Services safe and to prevent fraud, abuse, or other illegal activities; develop and improve our Services; provide you with quality product support or market our Services. Processing of Personal Data is necessary for Greyp to meet legal obligations Where is your data processed? Your Personal Data will mostly be processed in the Republic of Croatia. Exceptionally, your Personal Data may be processed in other countries in case it is processed by third parties providing services to Greyp, as described further in the text.
Sharing your personal data with third parties
We do not sell, trade, or otherwise transfer to third parties your Personal Data. However, Greyp may share your Personal Data with third parties that provide services to Greyp. Hence, your Personal Data may be provided, for example, to providers of IT services, legal counsels, partners engaged for processing payments, improving and promoting the Services, etc., all for the purpose of assisting Greyp in providing a quality service to its customers. Such service providers will have access only to the information necessary for performing their obligations towards Greyp and will process your Personal Data under strict contractual confidentiality agreements, in accordance with this Privacy Policy and relevant regulations, notably Regulation (EU) 2016/679 of The European Parliament and of the Council ("General Data Protection Regulation"). Information that Greyp collects and that has been anonymized in the manner that it may no longer be linked to you as an individual will not be considered as Personal Data. Greyp may share such anonymous data with third parties for advertising, marketing or other business purposes.
Retaining your personal data
Greyp will retain your Personal Data as long as it is necessary to provide the Services. Personal Data that is associated with your account will be deleted once you delete the account. In addition, in case you withdraw your consent given for the processing of certain Personal Data in accordance with the provisions of this Privacy Policy, all Personal Data for processing of which the consent was withdrawn will be deleted. For example, in case you withdraw the consent for collecting and processing your health information for the purpose of using features within the Greyp App, Greyp will delete all your health information from the Greyp database.
Protection of your personal data
Greyp maintains appropriate administrative, physical, and technical safeguards for the protection of security and confidentiality of your Personal Data that Greyp collects. These include, among others, the following:
using encryption to secure transmission of Personal Data you provide Greyp when using Services
using techniques such as pseudonymization and anonymization to protect your Personal Data
implementing relevant security measures to all systems containing Personal Data of its users
frequent education of Greyp employees in the field of data protection. Even though we do take all reasonable and available security measures to protect your Personal Data, you accept that no online data transmission is 100% secure from access by unauthorized recipients and will thus not hold us responsible for any breach of security unless this is due to our negligence.
Accessing, correcting, and deleting your personal data
If you provide us with your Personal Data, you will have the right to (at any time):
obtain from Greyp confirmation which Personal Data related to you Greyp processes and what is the purpose of such data processing
ask Greyp to correct your Personal Data in case Personal Data concerning you is inaccurate
ask Greyp to delete it from Greyp database
some or all Personal Data collected in connection with the provision of Services
withdraw your consent for the processing of certain Personal Data for a specific purpose
obtain from Greyp Personal Data that you have provided to us, in a structured, commonly used, and machine-readable format.
You are entitled to transmit that information to another data controller, in accordance with the General Data Protection Regulation. In case you wish to do any of the above, please let us know by sending us an e-mail to: gdpr@greyp.com. Your request for access, deletion or modification of your Personal Data will be processed within 10 business days from the receipt of such request.
Cookies and links to third party sites
https://greyp.com utilizes cookies for statistical purposes, to ascertain which pages are visited and how often and to enhance your online experience upon your return. Cookies do not harm your computer or other devices that you use to access our Services and do not contain any virus. Cookies are used in order to make our offer more user-friendly, increase efficiency and safety. Cookies enable us to recognize your browser when you visit our website again. Greyp will ask for your consent to use the cookies in the manner described in this Privacy Policy. You can adjust your browser settings to get informed about cookie use. Further, you have the option to allow cookies in individual cases or to generally exclude and even automatically delete them when closing the browser. At cookie deactivation, the functionality of the website may be limited. Greyp's website and other Services may contain links to sites operated by third parties. Greyp is not responsible for such a third party's privacy practices. In case you visit such other sites, please read their privacy policies.
Newsletter data
If you want to receive the newsletter offered on our website, we require your e-mail address as well as information that allows us to check whether you are the owner of the stated e-mail address and if you want to subscribe to the newsletter or not. Further data is not collected. This data is only used for requested information transfer and will not be forwarded to third parties. You can withdraw your consent for receiving the newsletter at any time, for instance via the 'unsubscribe' link indicated in the newsletter or by sending us an email to the following addresses: info@greyp.com or gdpr@greyp.com.
Other
This Privacy Policy has last been reviewed and updated in December 2021.
Greyp reserves the right to periodically make changes to and/or update this Privacy Policy. To keep yourself updated, you should review Privacy Policy from time to time. In case you have any questions, concerns or objections regarding the processing of your Personal Data by Greyp or you need additional information regarding your Personal Data collected in connection with the Services or this Privacy Policy, you can contact Greyp's data protection officer as follows:
by email to the following address: gdpr@greyp.com
by mail to the following address: Porsche eBike Performance d.o.o. Ljubljanska 7, 10431 Sveta Nedjelja, Republic of Croatia. In addition, in case you have any objections concerning the processing of your Personal Data by Greyp, you can file a complaint to the Croatian Personal Data Protection Agency.
Porsche eBike Performance d.o.o. (whose registered office is at Ljubljanska 7, 10431 Sveta Nedelja, Croatia, OIB: 03627403593) ("Greyp", "we", "our" or "us") is committed to protecting and respecting your privacy. This notice ("Privacy Policy") is designed to inform you about our practices regarding the processing of information, including information that can directly or indirectly identify you ("Personal Data") obtained by Greyp in connection with Greyp's website, the Greyp App, or any other Greyp product or service ("Services"). Data processing means any operation which is performed on Personal Data, such as collection, recording, storage, alteration, retrieval, use, disclosure, erasure, or destruction of Personal Data.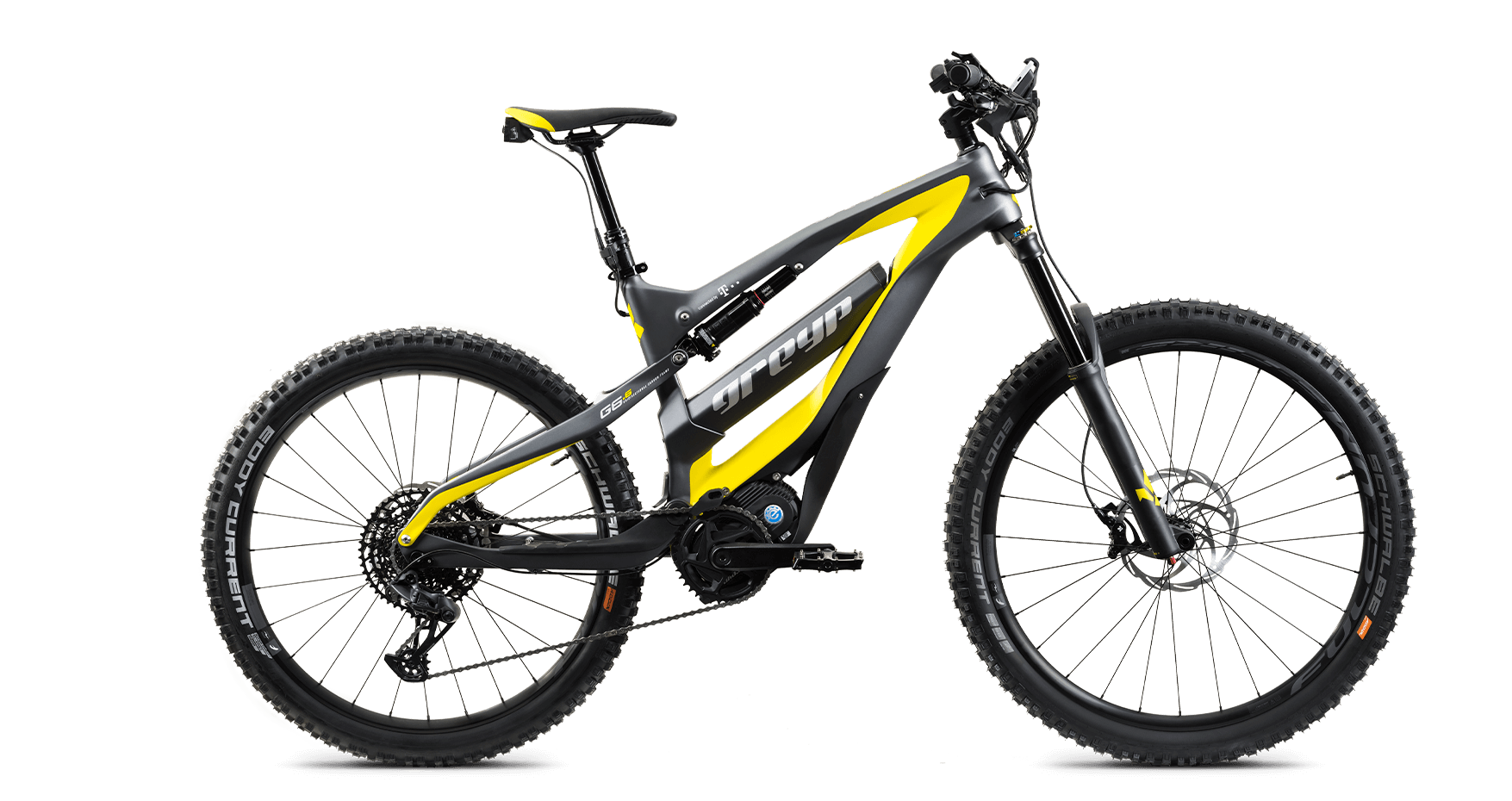 You are about to change your location
Tell us where will you eventually shop from
Select your delivery location*
*Models, price, payment and delivery options will vary based on your selection.